Past Guests include:


"MORRIGAN"
    

    

    

    

    

    

    

6
September 2018
8-00 pm


More detail to follow.


PETER COLLINS
    

    

    

    

    

    

    

23 August 2018
8-00 pm


GEOFF HIGGINBOTTOM
    

    

    

    

    

12 July 2018
8-00 pm

KEITH KENDRICK & SYLVIA NEEDHAM
14 June 2018
8-00 pm
This fine English duo has been praised as being amongst the finest interpreters of traditional English songs. Four decades of performing have taken Derbyshire born-and-bred Keith all over the U.K., Europe, the U.S., and most of the globe, even Japan where he spent six months, no not hard labour!  He and Sylvia have now been performing together for more than ten years. In addition to their recorded work, they have been featured on the BBC and are a celebrated fixture at folk festivals around the World.  They have been acclaimed for "breathtaking harmony work that leaves the listener gasping."  Drawing from a wide-ranging repertoire, the duo's performances combine humour with a deep respect for the songs and tunes of their native land. While known for their a capella harmonies, Keith and Sylvia also frequently accompany themselves and play tunes on three different systems of the only English-invented chromatic musical instrument – the concertina!

SUE WATSON AND CHRISSIE HOLMES
    

    

    

  17

th May 2018 8-00 pm 

At very short notice, two days, Sue Watson and Chrissie Holmes have agreed to stand in for "Notts Alliance who were to have been our guests but have had to cancel due to illness.  They say every cloud has a silver lining and in this case that is true because they were due to appear as a duo last August but on that occasion,

unfortunately, Chrissie was unwell so she was unable to attend!  However, Sue being the trouper that she is filled the bill magnificently on her own and with a little bit of help from her friends!  The silver lining here is that we are now able to have them back as a duo!

Anyone who was in the club in April 2017 when Isla St Clair was our guest will know how superbly Sue & Chrissie performed in their floor spot that night with superb
harmony and a wide range of songs.  They have relatively recently renewed a singing partnership which started before Sue started singing with Avril
Cameron as "Suave" which is best described as just "a long time ago".  They have been working up their repertoire steadily and have now done several floor spots both at FATD and Deal Friday Folk Club which have been extremely well received and I am delighted to be able to book them as a replacement for our May Guest Night!


DEREK "GIFF" GIFFORD
  

 

    

    

   

5th April 2018 8-00 pm
Derek Gifford has been singing folk songs for over 30 years and is a full time folk performer known throughout the folk World as "Giff". He is an old friend of the club having performed at FATD both in his own right and as part of "Three Sheets to the Wind".  His style is based on the tradition but much of his repertoire includes contemporary songs which are written in the traditional idiom. Giff has set a number of Bury poet Keith Scowcroft's poems to music including 'When All Men Sing' which is fast becoming a folk song 'standard' across the world.  Whether accompanying himself on guitar or bowed psaltery, which his wife hates, or singing unaccompanied Giff's enthusiasm becomes contagious. 
He also gives talks and workshops on the music to a variety of audiences. 'Birds in Folk Song' is a talk that Giff has given at both Broadstairs and Tenterden Folk Festivals, the latter only last month, October 2017, as he is a keen "birder", not a twitcher!  Doubtless when he is staying with me for this gig he will be out at Dungeness RSPB before breakfast!  Relaxed and confident, with sea songs, shanties and other chorus songs a speciality, Giff's festival and club performances are a real treat to encounter.  This will be a fun gig, don't miss

TOM McCONVILLE
    

  

    

    

   

15th March 2018 8-00 pm
Tom was born on Tyneside and brought up in a pub on the famous Scotswood Road with clientele drawn from the Irish and Scottish communities. This is where he first experienced traditional singing and fiddle music  Tom's musical journey started in the North East folk clubs in the early 70s.  Turning professional in 1974 he joined Bob Fox in a duo then folk/rock band Magna Carta to play all over Europe.   Every new venture brought great success and immense respect from his peers and public alike. Throughout his many collaborations he has continued his solo show at venues large and small. "A sandpaper-dry wit, eye-watering skill on the fiddle, great vocals... you just can't help feeling that a performance by Tom is like visiting an old friend" is how one folk club organiser describes him.  Renowned for his musical accompaniments, Tom has played on hundreds of albums. The list includes: Barbara Dickson, Richard Thompson, Allan Taylor and Lindisfarne. Whilst he has shared stages throughout the world with Stephan Grappelli, Sean McGuire, Mark O'Connor, Paul Brady and The Chieftains, Tom has never forgotten his roots and is as happy in the intimate atmosphere of a small folk club as he is at the largest festivals. Tom McConville is a world class act!  We are delighted to have him back for his second appearance at FATD!


"SILK PURSE"
 

 

    

    

   

15th February 2018 8-00 pm

    W
e had a delightful, if long overdue, thoroughly enjoyable evening with Sue and Lyndsey giving us a good variety of instrumentation, considerable variety of songs in both style and content and all professionally delivered!  I've heard that they rather enjoyed themselves too!


From the link to their website you can click on to a YouTube clip from Otford but be warned the recording is of poor quality and should only be viewed to understand their style. 
Silk Purse brings together two strong and distinctive female voices in powerful and haunting harmony.  Sue and Lyndsey Rule were familiar faces on the Kent and Sussex folk circuit for many years as part of the wonderful family folk group Pig's Ear. As Silk Purse, they give their own stamp to an eclectic mix of traditional, contemporary and self-penned material.  Between them, they play an impressive range of instruments - guitar, bouzouki, mandola, fiddle (Sue); flute, recorders, whistles, concertina, (Lyndsey). Alternating the two lead voices with a-capella harmony, Silk Purse offer you the sweet and the silly, choruses and ballads, delivered with zest and style.  They are very much associated with the "Pigs Ear Folk Ale" which in 2018 runs from 31 May to 3 June.  It is a superb festival and I have very much enjoyed Sue and Lyndsey's contribution to the festival in recent years just as I enjoyed the performance of "Pigs Ear" for many years before.   I am delighted to have been able to book them and I am really looking forward to their long overdue appearance at FATD!


LYNNE HERAUD & PAT TURNER
 

 

    

    

   

11th January 2018 8-00 pm

    

As ever, we had a great night with Lynne & Pat.  Just a thoroughly enjoyable evening with a variety of songs beautifully presented!
Individually, and in combination with a variety of well-known singers and bands, Lynne Heraud and Pat Turner have both served long apprenticeships on the shop-floor of folk music.  Between them they play guitar, recorder, English concertina and a variety of whistles (including swanee, policeman's and referee's), list a spoons workshop in their hall of fame, and are not in the least averse to dressing up or dancing when a song requires it.  They both agree, however, that their voices are their most important instruments. Their resulting style is a unique blend of stunning song and harmony, and a humour which takes their audience on a roller-coaster ride - "everything from high tragedy to ingenious smut in glorious vocal harmony!"   Lynne and Pat are no strangers to FATD and are also well known at Broadstairs Folk Week.  Great fun fabulous singers and superb harmony sum up their wonderful skill as folk performers but it would only be fair to say "I wonder what is coming next!"

 

BRIAN PETERS
  

 

    

    

   

30th November 2017 8-00 pm 

   

We had a great night with Brian, lots of fun and variety.  The best laugh of the night was the

Child Ballad, or his version of it called  "Six Nights Drunk" which he had kindly re-learned for  the occasion!



Brian Peters is one of the English folk scene's great all-rounders: a compelling singer, a first-rate squeezebox player and a skilled guitarist.  Brian is one of the country's best anglo-concertina players and is just as good on melodeon, while he's also internationally-known as a leading performer of the great 'Child' ballads.  Although best known for traditional folk songs and lively English dance music, Brian's act is full of variety and might include newer songs and tunes or wild squeezebox excursions into ragtime and blues.  Add his energy and dry humour on stage, and you have a truly entertaining performer.

"SAID THE MAIDEN"

    

    

   

16th November 2017 8-00 pm  

What a brilliant evening we had with these three lovely ladies!  Brilliant harmony singing, great songs from the tradition and self penned songs telling great stories and sounding traditional!  Add to that excellent accompaniment that was just that, not too loud so we could still hear the words.  A thoroughly enjoyable time was had by all!
Said The Maiden are Jess Distill, Hannah Elizabeth and Kathy Pilkinton, three friends who discovered a mutual love of folk music when they reunited several years after spending their school years together in Hertfordshire.  After tentatively performing a few songs at their local Redbourn Folk Club, the group soon gained a great deal of interest on the local and national folk circuit, securing major support and headline slots at folk clubs and festivals around the country.   I saw them last year at Deal Friday Folk and decided to book them there and then!
Said The Maiden are Jess Distill, Hannah Elizabeth and Kathy Pilkinton, three friends who discovered a mutual love of folk music when they reunited several years after spending their school years together in Hertfordshire.  After tentatively performing a few songs at their local Redbourn Folk Club, the group soon gained a great deal of interest on the local and national folk circuit, securing major support and headline slots at folk clubs and festivals around the country.   I saw them last year at Deal Friday Folk and decided to book them there and then!   





SUE WATSON AND CHRISSIE HOLMES
    

    

    

   

24th August 2017 8-00 pm  Unfortunately Chrissie was unwell so unable to attend but Sue being the trouper that she is filled the bill magnificently on her own and with a little bit of help from her friends!  We would hope to have them back as a duo before too long!


Anyone who was in the club when Isla St Clair was our guest will know how superbly Sue & Chrissie performed in their floor spot that night with superb
harmony and a wide range of songs.  They have relatively recently renewed a singing partnership which started before Sue started singing with Avril
Cameron as "Suave" which is best described as just "a long time ago"  They have been working up their repertoire and I was delighted to be able to book them for our August Guest Night!

ROY CLINGING
    

    

    

13th July 2017 8-00 pm  Once again we had a great night with Roy, who had kindly stepped in at short notice.

Roy is a fine singer, guitarist, concertina player and songwriter with a wealth of knowledge concerning the t

raditional songs & dance music of his native Cheshire.  However, his repertoire extends over a wide range of folk styles.  He has performed at most of the UK's major folk festivals, be it in Mick Ryan's ballad operas, with the Cheshire fiddle player Neil Brookes or as a solo artist. 

He never ceases to surprise us with the variety of his programme.
BRAM TAYLOR             15th June 2017, 8-00 pm We had a great night with Bram as always and he will be back with us next year as part of a charity tour mainly based in Deal!

Bram Taylor is an entertaining artist with a distinctive voice and relaxed stage presence who gives an evening "Taylored" to suit his audience. With a constantly healthy gig sheet, annual tours of the USA and appearances at the 2007 & 2009 Mariposa Folk Festival in Canada (alongside Don McLean, Gordon Lightfoot, The Proclaimers and Buffy-Sainte Marie).  Bram continues to be a constantly reliable and entertaining performer.

 

Bram is Fellside Records' longest serving artist with 10 solo albums and almost an equivalent number of compilation recordings to his credit.  His latest Fellside release 'Jokers & Rogues' was extremely well received by the British Folk Music Press.  

 



BARRIE & INGRID TEMPLE             4th May 2017
8-00pm
Geordie humour and great songs
As usual a superb night of singing playing and fun was had by all
ISLA St CLAIR
    

    2

0th April 2017 8-00 pm

   

ISLA WAS THE CLUB'S SPECIAL GUEST FOR 2017!




    

    

    

    

    

    

    

    

    

    

    

    

    

    

    

    

    

    

    

    

   



Isla St Clair is known to millions for her numerous television appearances including The Royal Variety Show, The Morecambe and Wise Show, and most notably as co-host with Larry Grayson on the BBC's long running The Generation Game which won her `Best Female TV Personality'. Her television series The Song and the Story won the coveted European award `Prix Jeunesse'.  Born in Scotland Isla is one of Britain's foremost traditional singers, noted for the depth of feeling she brings to her country's music. At twelve she recorded the first of many traditional ballads for the School of Scottish Studies, and which are still used as reference works. Still in her teens Isla was soon in the top rank of British folksingers, winning several awards including `Best Female Folk Singer', and touring the world.  Recently she received an honorary degree as Master of the University of Aberdeen for her contribution to traditional music. Isla takes a keen interest in teaching children the importance of traditional music and performs her specially prepared programme for educational establishments at home and abroad.  Isla's talent has also matured to encompass other aspects of the entertainment business and she continues to be busy with, television, radio, stage, presenting and touring in her live shows.



I think this short biography tells you a lot but as well as visiting her own modest website I strongly recommend that you visit her Wikipedia page as well.


If you only know Isla through her television work then I strongly suggest listening to her on You Tube. I had some problems loading some of her songs but I am fairly confident that this link to her singing "Farewell To Tarwathie" will work: 

Farewell To Tarwathie





DEBRA COWAN                      

    

    

30th March 2017

8-00 pm
Debra is a great American singer and guitarist,with a special folding guitar!
  She left a career in Education to pursue a career as a folksinger and has spent considerable time living and working in UK including holding the Monday night residency at Sandy Bell's Bar, Edinburgh's premier folk music pub.  She is Included in many compilations, notably the 2006 Free-Reed Records box set "RT-The Life and Times of Richard Thompson" and she has worked with many prominent musicians!  For those who haven't seen her before I strongly recommend that you listen to some of the sample tracks on her website.
www.debracowan.com
"CAPELLA"    

 

16th February 2017 8-00 pm   

A delightfully enjoyable night of song and laughter was had by all, as was only to be expected!



Tony and Lesley Petty are two of the finest exponents of traditional Song from the British IIsles as well as some from America, France and further afield in wonderful harmony. They have travelled England and Wales, playing at clubs and festivals, and have also appeared in France, Holland and the USA. They hold a house concert once a year, held over a weekend, in the middle of the fields of North Kent, in the house if chilly or in the barn if warmer. The concerts and singing are augmented with BBQ, horse shoe throwing (highly competitive!), boules (even more competitive!!) and SPLOT.  They have, until recently, lived up to their name and sung largely unaccompanied, except with an occasional bodhran, but, shock horror, last week at Faversham Folk Club Tony played a guitar on one song  is this an indicator of more accompaniment to come?!
They were to have come to us in July 2017 but they have very kindly stepped into the breach at short notice.

TOM LEWIS

    

    

    

    

    

    

    

    

    

12th January 2017 8-00 pm 

Another great night with Tom!



I am delighted to have Tom back with us again, as he showed at Deal Friday Folk last month he is an incredibly versatile and exceptionally knowledgeable folk performer and it would be entirely wrong to label him as a purely maritime performer!
Tom is a 24-year veteran of Her Majesty's Royal Naval diesel submarines; although now he's comfortably located on dry land, well he is living on a narrow boat!. His maritime songs cover a wide range of nautical topics, from life on board H.M. ships, through the loneliness and lure of the sea, to traditional shanties and classic nautical poetry, set to his own, and others' melodies.  Having been based in Canada for twenty plus years with regular visits to UK he is now doing it the other way round!  It is great to have him back at  the club. 
www.tomlewis.net
STANLEY ACCRINGTON
1st December 2016 8-00 pm
Stanley has appeared at Folk At The Drum on two previous occasions, once on a regular booking some time ago and more recently as an emergency replacement for a booked guest who fell ill at the last moment but very kindly found his own  replacement!  What can I say about Stan, he is an amazing performer in all senses of the word and you would do best to visit his website (following the link above) to get a flavour of all his humour and singing ability.  He is a very funny man with a huge fund of stories and songs, some serious, but all cleverly crafted.  This is really one who must not be missed as he will give you a great start to your Christmas period! 

As I predicted we had a hilarious night with very clever songs written and performed by a master craftsman!!

                                              
JOHN & DI CULLEN
10th November 2016 8-00 pm
J
John and Di Cullen have been described as "an inspirational music partnership" performing contemporary and traditional material with harmony, humour, guitar and bowed psaltery. Their first CD, " Moonlighting", is available plus their second, "Two For The Road", which was released in November 2015.  I have known them for a while through both Tonbridge Folk club and formerly when they ran "The Beacon" at Tunbridge Wells where they ran a very fine pub and were deeply involved with the running  of the fortnightly Beacon Folk Club with Peter Collins.  Two nicer people you couldn't wish to meet and their highly entertaining and accomplished performance is thoroughly enjoyable!
Sadly I missed the night as I had to be elsewhere but I know that everyone thoroughly enjoyed themselves!
I am confident that we shall have an extremely good evening with these two highly skilled young performers as our guests.
NICK DOW
15th September 2016  8-00 pm. 

Nick entertained us all with stories of his life in song collecting and working with wood and Gypsy caravans in particular.  The previous night at Faversham he had promised not to repeat any songs whilst he was with us and he was true to his word with a highly entertaining evening of superb guitar playing and singing story songs.



Jim is the youngest member of The Normandy Veterans Association, he was just fifteen on his first trip to sea on 6 June 1944 when he found himself as a galley boy on an ocean going rescue tug, "The Empire Larch", off Gold Beach on "D Day" !  Since then he has been an activist in many areas of life, in particular as a peace campaigner.  He became a folk singer and later a song writer when he first went back to Arromanche on an anniversary of "D Day".  This moved him so much that he wrote his first and most famous song "Shores of Normandy", I first heard him sing it at the Walton-on-The-Naize Maritime Song Festival in 2004 and it moved me to tears.  Jim has been a friend of mine for more than twelve years since we met at The Yarmouth Maritime Festival over several years singing Sea Songs and Shanties in The Beer Tent along with Capstan Full strength who ran the singaround.  The festival guests came to us and we didn't have to move, close to my idea of Folk Heaven!!  Since then Jim has moved on to greater things having twice sung "Shores of Normandy" at The Royal Albert Hall in 2014 once at The British Legion's own festival and then later in the year at the Festival of Remembrance in front of the Royal Family.  Last year he came to our Lifeboat Concert at Dungeness and sang it there.  Most recently he was guest at the "Pig's Ear Folk and Ale" on 4th and 5th of June this year.  Jim has his own Wikipedia page which is very interesting and you will find a number of his songs on You Tube, including his performance at The Royal Albert Hall which has had over 91,000 hits!


JOHN WATERSON AKA "FAKE THACKRAY"
14th July 2016  8-00 pm. 

What a great night we had with John, not only does he perform Jake's songs superbly but he is a highly talented performer in his own right.  There were tears before the end of the evening, tears of laughter!!  We shall definitely be having him back before too long!




I first saw John Waterson, aka Fake Thackray, live at "The Pigs Ear" Festival in 2014 and his performance confirmed the view I had formed by listening to clips on You Tube, I wanted to book him as his presentation live is outstanding!

John has performed the songs of Jake Thackray at festivals, concerts, clubs, after dinner venues and – most especially – to members of Jake's family.   
Jake's songs are exquisitely funny, satirical, incisive, irreverent, witty and gloriously un-PC – and sometimes all of these at the same time. Jake was a one off, his poetry broke the rules yet worked beautifully. He was a true craftsman of the English language, and his legacy of scores of songs continues to delight audiences of all ages today. 

Here are a couple of appreciative quotes:

"My family and I really appreciate your approach to Dads work and hugely enjoy watching your performances, which, whilst in your own entertaining stage style, are very reminiscent of Jake - particularly in your timing and rhythm. Thanks very much for keeping Dads songs alive."
Sam Thackray

"Wonderful stuff, bringing some of Jake's long-forgotten gems back to life. Brilliantly performed songs, with uncannily precise enunciation, and accurately capturing the unique Thackray guitar style. If Jake was right, and there really is an afterlife, he'll undoubtedly be looking down and giving his gruff approval".
Victor Lewis Smith, Producer 'Jake on the Box' BBC 4


RIBBON ROAD
16th June 2016  8-00 pm 

We had a lovely night with this very gentle style of protest song and the harmonies were every bit as good as I remembered!!



"Ribbon Road " is a Family Folk Group who hail from the Border Country of Northumberland consisting of Husband and wife team Geoff and Brenda Heslop and their daughter Jill.  Brenda is a wonderful songwriter, she and Geoff play guitar, Jill plays keyboards and all three sing with lovely harmonies.  I saw them at Broadstairs Folk Week in 2014 and knew immediately that I wanted to book them for Folk at The Drum!  I saw them several times at the Festival and became even more determined to book them.  For over twenty years Brenda has been one of the underground talents of songwriting, she has a captivating voice which draws the listener into her stories of life in its many guises.  Her songs are stunningly beautiful conveying compassion, triumph, sorrow and hope mixed with anger at those who abuse their power.  She is also a working shepherd looking after hundreds of sheep on the hills of Northumberland!  Geoff may be better known to you than you think having produced over a hundred folk albums in the last forty years with performers like Bert Jansch, Dick Gaughan, Allan Taylor and many others.  A recent review of their album  "No Redemption Songs " of 2012 states: "The overriding quality of the album comes from the strength of the vocals from the three members of the group.  There is some understated instrumental accompaniment underpinning the songs but never distracting from the stories which are being woven."  I say "Amen" to that as for me that is the very essence of Folk Music and it was exactly the reason that I was instantly attracted to their performance.  On top of that they are three really nice people!!  Do not miss this rare appearance in the South of England.
BOB KENWARD
12th May 2016  8-00 pm 

    

A terrific night with Bob who had kindly stepped in at short notice!



NANCY KERR & JAMES FAGAN   14th April 2016  8-00 pm        As was only to be expected with twice winners of the Radio 2 Folk Awards "Best Duo",
                                                                                                  We had a superb night with these two thoroughly professional and delightful performers!

JON HESLOP
17th March 2016  8-00 pm
Cornish resident JON HESLOP has been recognized as a major force in contemporary songwriting for over a quarter of a century. His songs are full of powerful beauty set to tunes firmly rooted in the British tradition, picked up and passed on wherever singers gather. In the UK and Ireland, and from St Austell to Australia, he and his songs are known and loved. Jon has also been a member of the Cornwall Songwriters collective since their inception in the 1990's, appearing in all three of their 'docu-dramas'. The Cry of Tin, Unsung Heroes and Cornish Lads as well as pursuing a successful solo career.
His stage presence is quiet and gentle, belying a sharp wit and droll sense of humour which surfaces in his between song chat – and even in some of his songs! Equally at home accompanying himself on guitar or bouzouki or  singing a cappella, Jon's idiosyncratic approach has made him a much loved and respected character in the world of folk music.
You may not have heard of Jon Heslop but if you regularly attend folk clubs or festivals you will have heard his songs. His latest album, "NOW and AGAIN" is selling well to both established fans and newcomers to his work.
Both serious and very funny" Folk Diary (Sussex)    Jon can be contacted on  07531255914 or at hslpjnthnhslp@aol.com

This delightful French family group have been to Deal Friday Folk many times and to other Kent clubs including Tonbridge but this is their FIRST

THE CAPTAIN SWING BAND
3rd December 2015 8-00 pm

    

   

They delivered a highly entertaining and educational evenings performance!

GRAEME KNIGHTS & JIM MAGEEAN 

19th November 2015 8-00 pm

   www.graemeknights.net 

   

Good as ever!!



Graeme was in the area recently when he ran the Dungeness Lifeboat Shanty and Sea Song Concert on 23 May 2015 which was also a memorial for our friend and his, Kerry Hearn.  Jim and Graeme performed at FATD in November 2013. 

Although Jim and Graeme had worked together many times over the years they officially started singing together in 2002 at Whitby Folk Week. Jim had been running the Shanty Sessions there for over 30 years and Graeme kindly offered to help out (it's a tiring and thirsty job singing shanties for 2 hours every day of the Festival) and Jim was glad to accept.They've been running these sessions together ever since and also running similar events at other Festivals around the country - Barnsley, Bedworth, Bromyard etc (and that's just the B's).                    
The two singers are mostly known in association with the late, great Johnny Collins who sadly passed away in July 2009 (whilst on tour in Poland with Jim). Jim had been singing in a duo with Johnny since 1975 and Graeme had also been singing with Johnny since 1999. Sometimes the three singers performed as a trio (they toured Canada as such in 2008) and the last recording Johnny made was the CD 'Good Times' with Jim and Graeme - so named because they always had such good times together. 
Like Johnny, Jim and Graeme specialize in unaccompanied chorus songs. Sea Shanties, Work Songs, Union Songs, Mining Songs, Drinking Songs etc. Anything to get the audience to join in and 'Make the Rafters Roar'.
Bring your singing voices with you!

TATTERDEMALION
29th October 2015 8-00 pm

    

   

A great night was had by all!!

Our only puzzle for this long awaited evening is guessing just how many instruments they will have between them!!
very
long time but he is still as good as ever, one not to be missed.
LAURA SMYTH & TED KEMP
25th June 2015 8-00 pm
http://lauraandted.co.uk   What a great night we had!


MARTIN CURTIS
14th May 2015 8-00 pm
www.martincurtis.co.nz  An extremely entertaining evening!

Martin Curtis, New Zealand Singer and Songwriter, lives in Cardrona in the foothills of the Southern Alps, a place that has become the inspiration behind much of his music.
He has been writing and singing songs about his adopted country for over 30 years, and has recorded and released 10 albums, many of them celebrating New Zealand and the people who helped make it what it is today. He has toured extensively nationally and internationally – particularly in the United Kingdom – as well as Australia, Hong Kong, Austria, Norway and even Nepal.
LYNNE HERAUD & PAT TURNER 15th January 2015 8-00 pm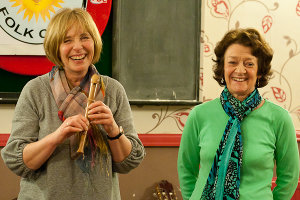 Great friends of the club, it will be great to see them back again, lots of fun and great harmony: 
www.lynneandpat.co.uk